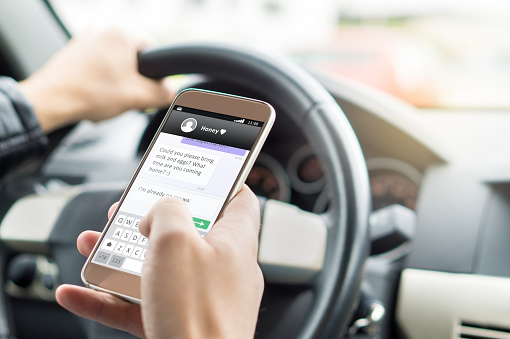 New Mexico has more distracted driving accidents than any other state, according to a recent traffic safety study on dangerous driving habits.
"For the second year in a row, New Mexico has the most distracted driving in the country," noted traffic safety experts at Zutobi, a website devoted to driver education.
New Mexico leads the country in distracted driving.
Zuboti analyzed distracted driving accident statistics for 2015 to 2020 compiled nationwide by the National Highway Traffic Safety Administration (NHTSA). On average, 265,000 to 295,000 car accidents are caused by distracted drivers every year.
In New Mexico, the state was hands down the national leader in the number of distracted driving accidents and fatalities. For every 100,000 drivers, there were 10 distracted driving fatalities in 2020 in New Mexico. That same year, there were 139 distracted driving accidents in New Mexico.
As a result, Zuboti gave New Mexico a score of 99.98 on its distracted driving severity score. The higher the score, the worse the problem. To put those numbers in perspective, the second worst state in the country for distracted driving (Kansas) received a score of 51.21. The state with the least number of distracted driving accidents (Mississippi) received a severity score of 4.62.
Men are more likely to drive distracted.
According to the Zuboti study, men are three times more likely to be involved in a distracted driving accident than women.
"Men are more likely to engage in risky driving practices, including not using seat belts, driving while impaired by alcohol, and speeding," noted a Newsweek article.
Zuboti's numbers confirm this assessment. For example, in 2020, male drivers were involved in 2,125 fatal distracted driving accidents nationwide. In contrast, female drivers were involved in 781 fatal distracted driving accidents in the same year.
What is distracted driving?
Distracted driving can take many different forms. But, generally, anything that diverts your attention away from the road is considered distracted driving. According to the Zuboti study, distracted driving includes:
Using a cellphone while driving, including texting, which is against the law in New Mexico.
Reaching for objects in the car.
Looking at objects outside the car.
Eating while driving.
Self-grooming while driving.
Reading while driving.
Distractions caused by a passenger in the front seat.
Distractions caused by a passenger in the back seat.
If you were recently involved in a car accident caused by a distracted driver in New Mexico, you may be entitled to compensation for your losses, including medical bills, lost wages, and pain and suffering. However, to ensure you fully understand your legal rights and options, you should contact an experienced New Mexico car accident lawyer.
A car accident attorney can help.
Car accident injury claims can quickly turn into complicated legal cases. Whether the at-fault driver was distracted, speeding, or doing something else they should not have been doing, don't be surprised if you have a hard time getting the money you rightfully deserve for your accident-related expenses. Insurance companies are notorious for lowballing crash victims and will do everything possible to pay you less than you deserve.
At the Szantho Law Firm, attorney Andras Szantho and his dedicated legal team can protect your rights and look out for your best interests. We know the law and won't let an insurance company take advantage of you.
Learn more about your legal options. Contact us and schedule a free case evaluation with a New Mexico car accident attorney you can count on in a crisis. Our Albuquerque office is conveniently located on Prospect Avenue. We also have an office located in Santa Fe, New Mexico. Best of all, we work on a contingency fee basis. That means no up front money is required, and you pay no fees unless we obtain a financial settlement or verdict for you.