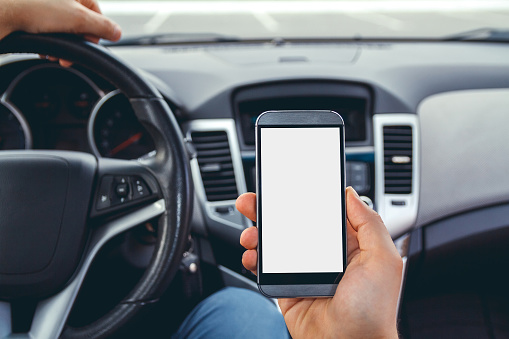 Statistics tell only part of the story when it comes to distracted driving accidents. That's because most drivers, if they were in a crash while talking or texting on their phones, are not going to admit their reckless behavior to avoid taking responsibility for the accident.
According to the TidBits website, the National Highway Safety Traffic Administration reported phones were involved in 14 percent of distracted driving accidents in 2016. The totals: 401 crashes and 434 deaths.
NHTSA also reports:
"Survey research shows that self-reporting of negative behavior is lower than actual occurrence of that negative behavior. There is no reason to believe that self-reporting of distracted driving to a law enforcement officer would differ."
In other words, drivers commonly lie to police about using their phones while driving.
High-Tech Problem, High-Tech Solution?
Apple in 2017 unveiled a "Do Not Disturb While Driving" feature to iOS 11. It provides drivers with a way to lock their cellphones, avoiding distracting texts, calls, and alerts.
It is too early to tell, but maybe the new technology can help break a disturbing trend: Phone use was linked to 13 or 14 percent of all fatal accidents each year from 2013-2017. Deaths ranged from 387 in 2014 to 453 in both 2015 and 2016.
The latest statistics, from the National Occupant Protection Use Survey, show the percentage of drivers talking while holding a phone to their ear nationwide dropped from 3.3 percent in 2016 to 2.9 percent in 2017. In the Northeast, however, the percentage rose from 1.1 percent in 2016 to 2.8 percent.
Cut Through Legal Distractions
If you've been in an accident caused by a driver using their phone, the blame should be obvious. Try telling that to the other driver, who probably won't admit being on the phone and may blame you for the crash. Try telling that to their attorney. Try telling that to the insurance company, whose only interest is paying you as little as possible for your pain and suffering. While you are injured, possibly unable to work and provide for your family, the insurance company will try to take advantage of your desperation by offering a settlement that comes nowhere near what you need to get on with your life.
The car accident lawyers at the Andras Szantho Law Firm have helped hundreds of injured drivers in New Mexico since 2007. Andras Szantho is a former New Mexico prosecutor, so he knows how the system works – and he can make it work for you. With offices in Albuquerque and Santa Fe, he and his team will work tirelessly to secure justice for you and your family. Take back control of your life by contacting his law firm for a free case consultation today.