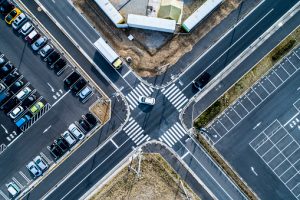 New Mexico drivers face the risk of being involved in a collision any time they get behind the wheel. Drivers can, however, mitigate these risks with defensive driving tactics and safe driving behaviors. Because we can't curb the recklessness of other motorists, crashes can still occur. When they do, injury victims may have the legal right to be compensated for their financial losses.
An Albuquerque car accident attorney can help injury victims identify all legal causes of their injuries. This may include negligence by another driver, poorly-maintained roadways, inclement weather and other conditions of decreased visibility, or defects in the design, manufacturing, or maintenance of a vehicle.
Specific Albuquerque Intersections are Especially Dangerous
That said, some areas, and specific intersections, are simply more prone to car accidents than others. KOB4 reports that crash data reveals Montgomery Boulevard and San Mateo Boulevard to be the Albuquerque corridors with the greatest number of traffic accidents.
Paseo del Norte at Coors Boulevard has the dubious distinction of being the Albuquerque intersection with by far the most accidents. A total of 538 crashes between 2009 and 2013 resulted in 149 injuries or fatalities.
The second-highest crash rate was found at the intersection of Osuna Road at Pan American East. Between 2009 and 2013, this intersection was the site of 54 crashes, 20 of which resulted in an injury or fatality.
While the exact causes of these increased accident rates are unknown, Albuquerque drivers are advised to use particular caution in these areas, and utilize alternate routes when possible.
How Albuquerque Drivers Can Reduce the Risk of Collisions
The New Mexico traffic statutes contain many important safety provisions. These are more than abstract legal obligations; they are vital protections which have a proven impact on both the risk of having an accident and the severity of injuries which are sustained in an accident. For example, speed has been proven to dramatically increase the severity of injuries which are sustained in a car accident. The World Health Organization reports that an injury victim is twenty times more likely to die in an impact at 80 kilometers per hour than an impact at 30 kilometers per hour.
In addition to being a good idea, slowing down is also a requirement of New Mexico law. Section 66-7-301 of the New Mexico statutes requires drivers to control speed as necessary to: 
Avoid colliding with any person, vehicle, or conveyance on the roadway.

Comply with legal requirements and the duty of due care.

Protect workers in construction zones and other posted safety zones.
This means that a driver traveling at the posted speed limit may still be committing a traffic violation if circumstances demand a slower speed. Construction zones, inclement weather, decreased visibility, and other circumstances can all demand that a driver slow down in order to avoid collisions and meet his or her legal duty of due care to other roadway users.
Of course, all the safety measures in the world cannot protect road users from other negligent drivers, defective vehicle manufacturing, poorly maintained roads, drunk drivers and other circumstances beyond the victim's control. If you have been injured in an auto accident, contact an Albuquerque car accident attorney as soon as possible. Injury victims have legal rights which are subject to statutes of limitation.